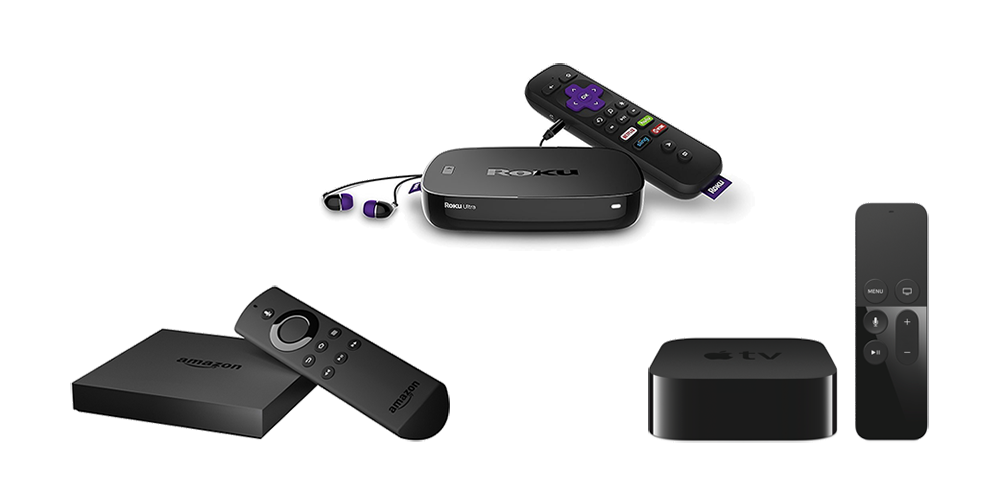 Streaming Devices
A streaming device is a small electronic device that connects your television or home theater to content that is streamed over the Internet from various media services. Streaming devices run apps much like your phone does, and they generally have nice universal search features that make it easy for you to find content you want to watch and to jump right into it. You can keep a list of which shows and movies interest you, so that it's readily available for future viewing. Streaming devices come with their own controllers with many offering voice search capabilities.
There are many standalone device options out there for streaming content, and picking one can be confusing. This article covers the most popular ones and gives some tips on selecting what is right for your needs.
TVs, Blu-Ray Players, and Consoles
- While many modern TVs, Blu-Ray players, and gaming consoles now support apps that can stream content, you may find that they lack certain apps and the apps they do have might not have as good of a user experience.

USB stick devices plug right into a standard USB slot (make sure you have one) on your TV, while slightly larger box devices usually provide some beefier specs and can be hardwired into your network for the best streaming connection. Both kinds of devices support streaming via Wi-Fi too. USB stick devices are cheaper than most boxes and are a good way to try out streaming without breaking the bank.

If you find the information on this site helpful, please support our free site by using the links on this page to order the device you choose.
Fire TV
Amazon produces two main models of Fire TV, one in USB stick form and the other in a small box form. They have a third Gaming Edition option that is the same box model but swaps in a gaming controller.
4K Streaming
- The box model supports up to 4K resolution, but remember that 4K streaming uses more data and requires more data bandwidth than 1080p streaming.

Amazon Prime is a service that provides two-day shipping for anything bought from Amazon, and also includes other free services like Prime Video, one of the streaming service options. Fire TV has tight integration with Prime Video, which can be nice, but it pushes it hard if you don't have it.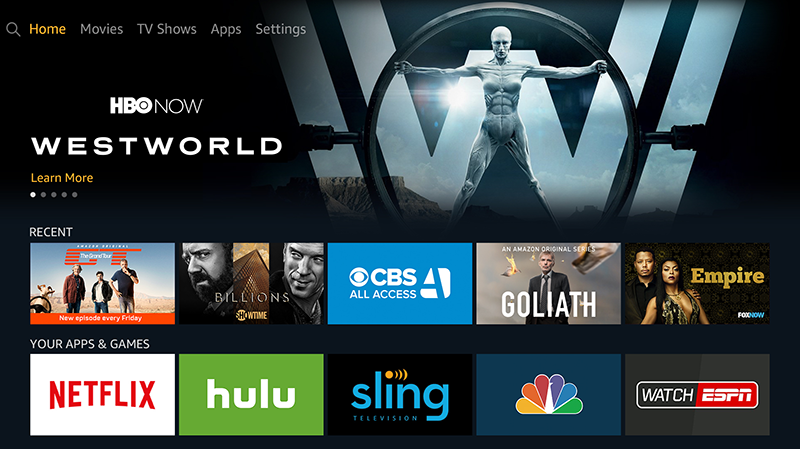 Another feature of Fire TV is the Alexa voice remote. Alexa has hundreds of skills and can instantly play content (e.g. "Play Game of Thrones" or "Launch Netflix"), tell you the weather, sports scores, play music, or find a movie show time.
Fire TV supports screen mirroring from Android and Windows devices. Mirroring from iOS/Macs can be achieved by installing a third-party app that enables AirPlay support.
Device Options
Fire TV Stick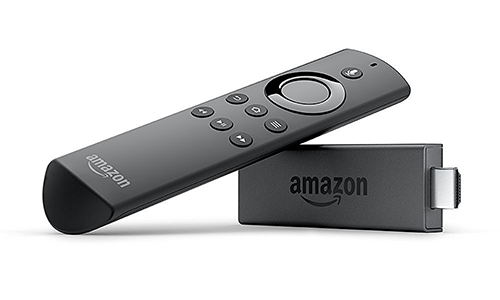 USB stick, 8GB storage, 1GB memory (for apps and casual games), supports up to 1080p resolution, has 802.11ac Wi-Fi, and a small remote.
Fire TV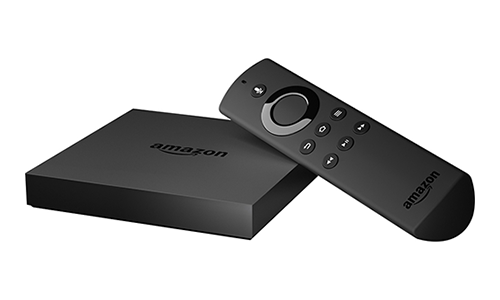 Box device with all the features of the Stick, and doubles memory to 2GB for high-performance games, supports up to 4K resolution, adds a wired ethernet connection, and has a microSD slot.
Our Recommendations
The Fire TV Stick can be a good option if your TV has a USB slot and you want to use Wi-Fi for your streaming. It also is the cheapest option and is a good way to try out Amazon's device family without spending too much.
The standard Fire TV box allows you to optionally hook up a wired Internet connection for best reliability and will perform a bit better in general due to improved hardware specs. This can mean less lag in apps and support for more graphically-intense games.
The Fire TV Gaming Edition is really only a good option if you plan on playing a lot of games with this device. These devices are like phones in terms of power, so our recommendation is to skip the Gaming Edition and use your phone/tablet and/or console system (Xbox, etc.) for gaming instead.
Ordering a Fire TV?
- Please support our ad-free resource site by using the buttons above to order your streaming device on Amazon.
Roku
Roku has the most diverse product range, with everything from a streaming stick to their upper-end models supporting the latest advances in modern display technology.
4K and HDR Streaming
- The Premiere and higher models offer 4K resolution, while the Premiere+ and higher models add HDR into the mix. Remember that 4K and HDR use more data and require more data bandwidth than 1080p streaming.

Roku organizes all its content by "channels," which are effectively apps and can make it more natural of a switch from cable TV. Roku has a universal search feature that can optionally be activated by voice if you have a voice-enabled remote or if you use the Roku app on your phone. There is no voice assistant like Alexa or Sire on Roku though and as such, voice-related features are limited compared to other platforms.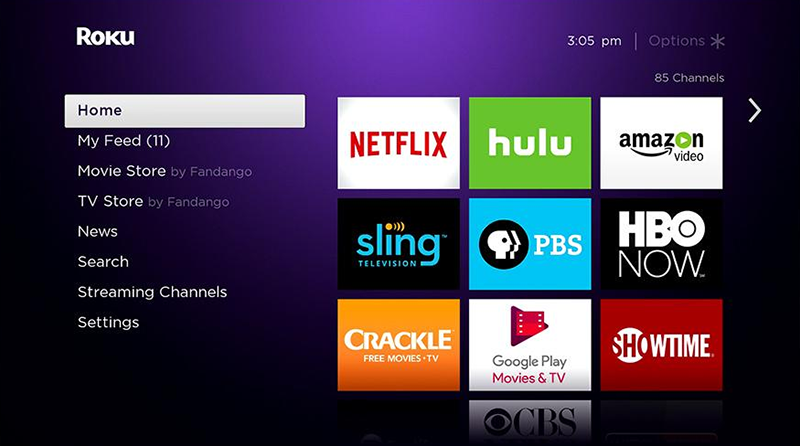 Unlike Fire TV and Apple TV, which are both made by manufacturers who have streaming services of their own, Roku is truly platform-neutral and provides an unbiased universal search that shows you where content is free or cheapest for you to watch.
Models other than the Express support screen mirroring from Android and Windows devices.
Device Options
Streaming Stick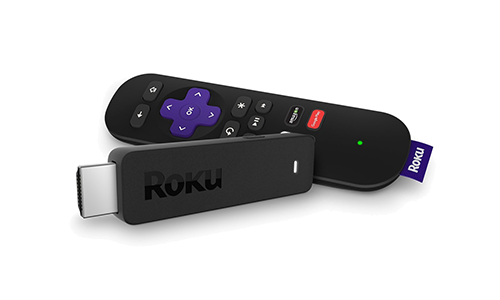 USB stick, supports up to 1080p resolution, has 802.11b/g/n Wi-Fi, a faster quad-core processor, and a point-anywhere remote.
Express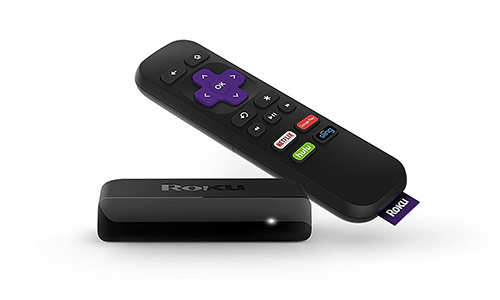 Box device, supports up to 1080p resolution, and has 802.11b/g/n Wi-Fi. Most inexpensive option for trying out streaming TV.
Premiere+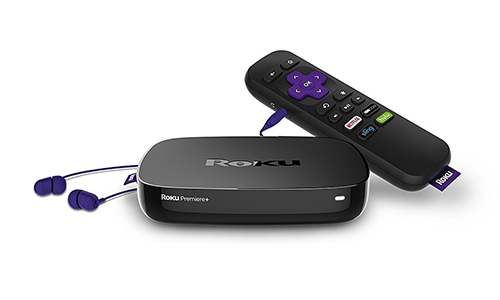 Same as Premiere model, adding HDR support, an ethernet port, microSD slot, and a point-anywhere remote with headphone jack for private listening.
Our Recommendations
The Roku Streaming Stick is a decent option if your TV has a USB slot and you want to use Wi-Fi for your streaming.
For box models, you can get the very inexpensive Roku Express model or can upgrade to the Roku Premiere model that has 4K resolution support and improved Wi-Fi. Go with the Roku Premiere+ model if you need an ethernet port, want HDR support, or would like the private listening feature. Choose the Roku Ultra model if you want voice search and the handy remote finder function.
Ordering a Roku?
- Please support our ad-free resource site by using the buttons above to order your streaming device on Amazon.
Apple TV
Apple has two box streaming device models, which are pretty much identical other than the storage capacities of the hard drives. While going with Apple TV is generally the most expensive option for a streaming device, it does have a premium feel and a great app store. It packs a beautiful user interface and feels a bit more modern and refined than the competition. Many apps on this platform are more polished than on other platforms too.
The Apple TV has numerous things going for it. Much like Alexa on Fire TV, voice-controlled Siri can help you perform searches to find specific kinds of content, tell you live sports scores, etc. The TV app on Apple TV is really great and provides a unified experience for finding content, tracking your watch list (called "up next"), and jumping right into a show or movie provided by another app. The TV app is also available on iOS devices and stays in sync with Apple TV.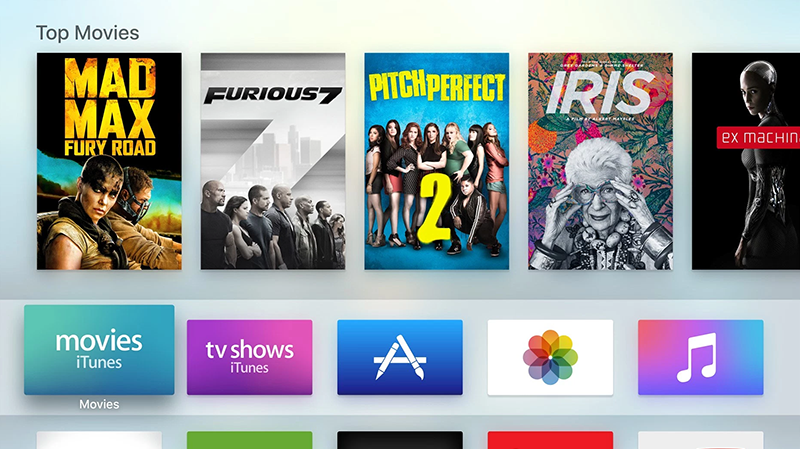 If you own Apple devices like an iPhone or iPad, you should consider going with the Apple TV because of the straightforward compatibility with other Apple devices and with Apple's various services. Apple Music is tightly integrated, as is the iCloud Photo Library and HomeKit-enabled device control. When a text entry prompt comes up on the Apple TV, if your phone is nearby it will allow you to type on that. If you download a TV-enabled app on your phone, the Apple TV will also automatically download and install it.
Apple TV supports screen mirroring from iOS and Mac devices via AirPlay.
Device Options
4th Gen 32GB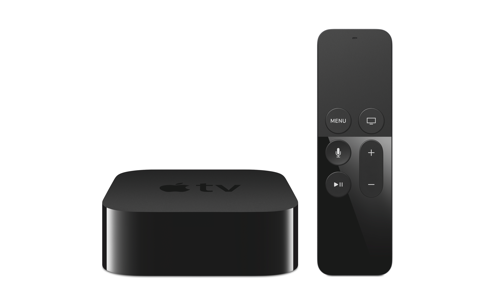 32GB storage, supports up to 1080p resolution, has 802.11ac Wi-Fi, a wired ethernet connection, and a small touch remote.
Our Recommendations
The Apple TV will give you a premium streaming device experience, but at a premium price. Even though it won't support more than 1080p resolution, if you have iOS devices, you will want to seriously consider going this route.
While my family does have iPhones, I don't use Apple services like Apple Music, iCloud photo storage, or HomeKit. I prefer to go with more platform-neutral cloud services. Even so, the Apple TV is a pleasure to use and is what you'll find in my family room. Bill
With the only difference between the models being the storage size, the question is how much do you actually need? If you are mostly just streaming content from a TV provider like DirecTV Now or a service like Netflix, then the 32GB model is probably fine for your needs.
The 64GB model is more for people who plan on playing a lot of games on the device, or will use it for streaming repeated content like music, iCloud photos, etc. In this case, the hard drive is able to cache more data, meaning it might not have to download the data again (affecting your Internet data usage) when it is requested in the future.
Comparison Chart
Fire TV Stick

Fire TV

Fire TV Gaming Edition

Roku Streaming Stick

Roku Express

Roku Premiere

Roku Premiere+

Roku Ultra

Apple TV 32GB

Apple TV 64GB

General
Generation
2nd
5th
4th
Price (approx.)
$39
$89
$129
$49
$29
$77
$94
$119
$149
$199
Device kind
Stick
Box
Box
Stick
Box
Box
Box
Box
Box
Box
Storage
8GB
8GB
8GB
?
?
?
?
?
32GB
64GB
Output capabilities
1080 HD support
✓
✓
✓
✓
✓
✓
✓
✓
✓
✓
4K Ultra HD support
✓
✓
✓
✓
✓
HDR support
✓
✓
Connectivity
HDMI port
✓
✓
✓
✓
✓
✓
✓
✓
✓
✓
Wi-Fi
✓
✓
✓
✓
✓
✓
✓
✓
✓
✓
Ethernet port
✓
✓
✓
✓
✓
✓
microSD port
✓
✓
✓
✓
USB port (for storage)
✓
✓
✓
-
-
Digital audio out
✓
Remote control
Remote included
✓
✓
✓
✓
✓
✓
✓
✓
✓
Gamepad included
✓
Voice support
✓
✓
✓
✓
✓
✓
Voice assistant
✓
✓
✓
✓
✓
Remote finder
✓
Remote headphone jack
✓
✓
Android remote app
✓
✓
✓
✓
✓
✓
✓
✓
iPhone remote app
✓
✓
✓
✓
✓
✓
✓
✓
✓
✓
iWatch remote app
✓
✓
Popular app/channel support
Full online list
View list
View list
No list
Netflix
✓
✓
✓
✓
✓
✓
✓
✓
✓
✓
Hulu
✓
✓
✓
✓
✓
✓
✓
✓
✓
✓
Prime Video
✓
✓
✓
✓
✓
✓
✓
✓
iTunes
✓
✓
YouTube
✓
✓
✓
✓
✓
✓
✓
✓
✓
✓
Plex
✓
✓
✓
✓
✓
✓
✓
✓
✓
✓
Playstation Vue
✓
✓
✓
✓
✓
✓
✓
✓
✓
✓
DirecTV Now
✓
✓
✓
✓
✓
Sling TV
✓
✓
✓
✓
✓
✓
✓
✓
✓
✓
HBO
✓
✓
✓
✓
✓
✓
✓
✓
✓
✓
Showtime
✓
✓
✓
✓
✓
✓
✓
✓
✓
✓
FOX Sports GO
✓
✓
✓
✓
✓
✓
✓
✓
✓
✓
WatchESPN
✓
✓
✓
✓
✓
✓
✓
✓
✓
✓
Pandora
✓
✓
✓
✓
✓
✓
✓
✓
✓
✓
Spotify
✓
✓
✓
✓
✓
✓
✓
✓
Prime Music
✓
✓
✓
✓
✓
✓
✓
✓
Apple Music
✓
✓
While we do our best to keep this chart and other information on this page up-to-date, please verify the information with the product manufacturers.
Additional Reading
Now that you've discovered more about the popular streaming device options, have a look at our cord-cutting guide to see how a streaming device fits into the equation of switching to streaming TV.